How To Process a PO in Spree
Agencies and Production houses with Priority accounts will typically request for us to license/invoice content on behalf of them. Some agencies send in PO sheet for us to sign, while others just require an invoice PDF.
PO Sheets include
JOB/PO #
The client (the end-licensee)
The clip IDs
Any additional informationIf that we can add in the comment section of their order
If the agency does not send a PO sheet to be signed, make sure to confirm the quality of clip they want (HD/4K), the level of indemnification (if no custom agreement), the JOB/PO #, the end-licensee, and any additional information for the project (commercial name, air date, episode name, etc).
Step 1: Turn on Purchaser Role
Navigate to the Corporate Account of the employee who has requested the purchase and turn on their purchaser role (if their Dissolve log-in profile is not linked with the Corporate account you will have to do this now by searching their name in the add member field).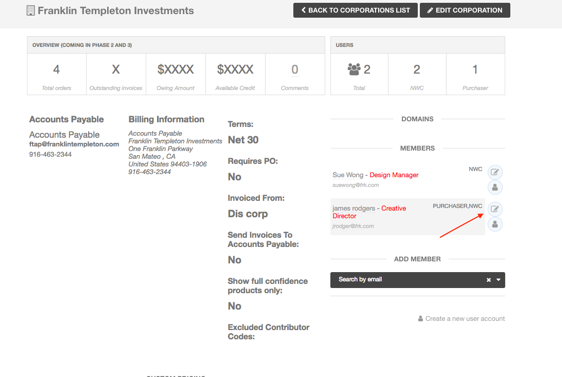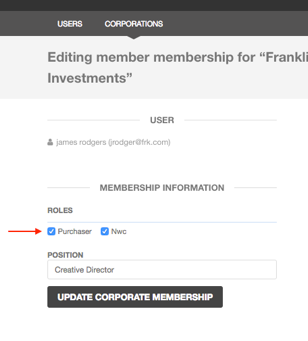 Step 2:
Pay With PO Number
Impersonate the customer and add the clips/ photos to their cart. Once everything is loaded and priced, click the checkout with PO button at the bottom of the page. Use supplied PO number or Job # to fill out Purchase Order Number field. Add any other applicable job notes (this can be copied from the customer's PO - more information is better than less).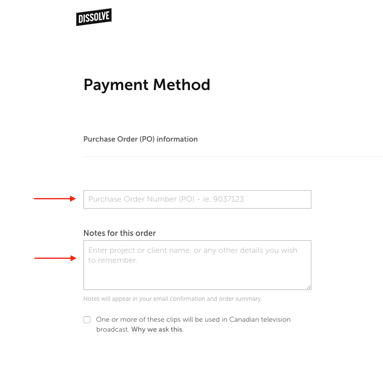 Click the continue button and review the order for accuracy, then click place order.
Step 3:
Sign the PO (if required), and Download Invoice
Sign the PO and add the following stamp:
"Thank you for your purchase. We confirm that we've accepted your PO and that the content you've purchased is subject to company's custom agreement with Dissolve Corp (US) / Ltd (CAD+)"
Spree will pop you to the customer's Orders page where you can then download the Invoice PDF to the customer's corporate account file. Once you have downloaded the invoice, unimpersonate the customer.
Email the customer a copy of the invoice you downloaded and a signed PO.
Video Guide